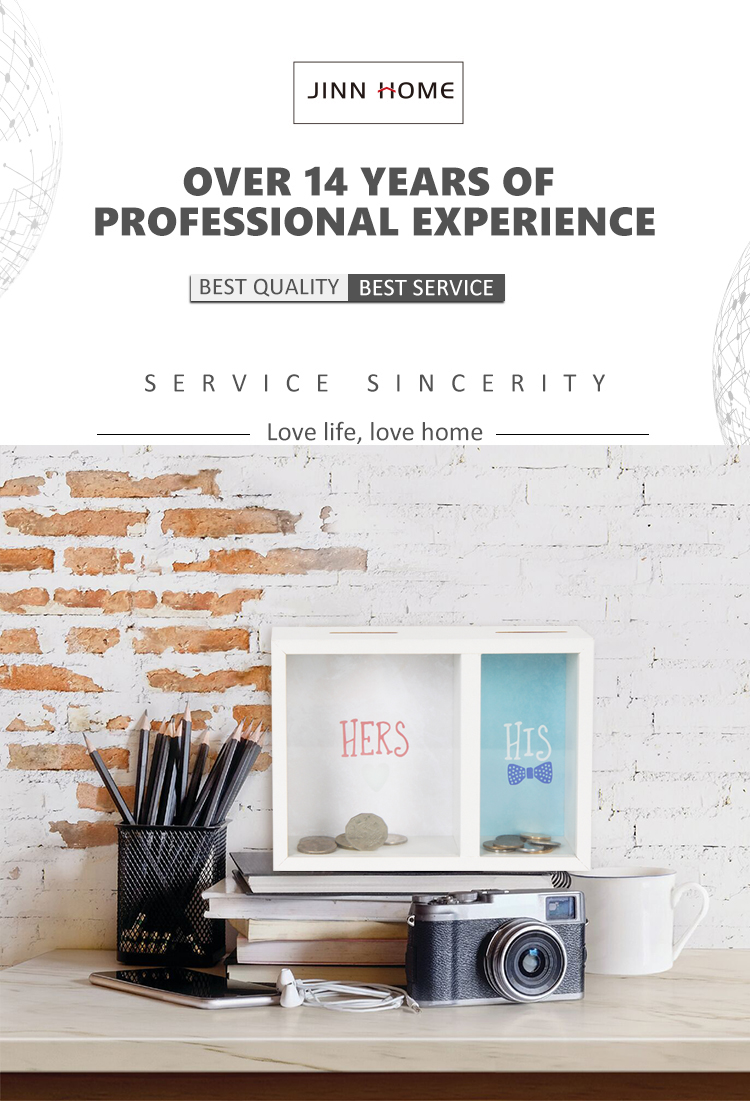 1. What is your minimum order quantity?
* Usually 600pcs. We can negotiate with you according to your exact situation.
2. Do you provide OEM,ODM service ?
* Yes. We also have professional designers to help you.
3. How about your products' quality?
* We have our own factory so that we can check the production status at any time. We can provide pictures during and after production. You can also arrange inspection.
4. What's your method of payment?
* T/T, L/C, D/A, D/P and Western Union. We spport 30% in advance and 70% balance.
5. Do you provide samples?
*Yes. We also support customization of samples.
FAQ
Products Features
Video
Product Detail
Design: Wooden money box with "Hers"and"His" printed on the glass front. We also support your custom patterns. It's made up of two columns and you can organize your own storage. There are two slots at the top for coins and dollar bills. Great for saving on special items.
More robust and easy to open: A durable shadow box frame with 4 easy to twist tabs on the back makes it even more robust for easy removal of items once they are full.
Decoration: Clear glass allows you to see how much is saved. Perfect for any part of the home. We will provide you with cute and interesting pictures. You can also choose your favorite picture or your own picture as the background.
The perfect gift: Our wooden piggy bank is the ideal gift for you and your loved one and can save you some special items.